When it comes to list down the immunity boosting foods, Chyawanprash is the foremost. It's chief ingredient is Amla (Indian gooseberry) which is loaded with vitamin C. Other herbs present in it are ashwagandha (rich in anti-oxidants, memory and energy boosting), giloy (increases immunity), nagkesar (brain tonic), nagarmotha (brain tonic, eases digestion), pippali (fights against respiratory infections) and many more. In this article, I am going to share the Home Made Chyawanprash recipe. Keep reading!
I still remember, my father made it compulsory for all kids at home to eat 2 teaspoons (approximately 28 grams) Chyawanprash daily. At that time I used to loathe the routine unaware of the fact that Chyawanprash was instilling me with energy which I would rejoice in future. I think we as parents are not doing justice to our kids by unlearning the traditional knowledge imparted to us by our parents.
Why Home made Chyawanprash?
Original Chyawanprash recipe contains around 40 ayurvedic herbs. Most of the marketed brands contain all the required herbs however the high sugar content and preservatives makes them unhealthy and little less effective. Moreover, one can never be sure of their authenticity. Therefore, it is best to make your own home made Chyawanprash- One which has selective herbs, just the optimum amount of sugar and lot of cleanliness.
The original Chyawanprash recipe is mentioned in the ancient ayurvedic text called charaka samhita. I have shared the same in my article on health benefits of Chyawanprash. In this article, I will be sharing how to make Chyawanprash at home.
How to make Chyawanprash at home?
Chyawanprash is our traditional Indian food supplement loaded with health benefits. To avail the maximum payback, it is best to make your own home made Chyawanprash recipe. It is very easy to make chyawanprash at home. Most of the ingredients that I have used are available at ayurvedic medicine shops. However, If you are not able to procure all the above mentioned ingredients, you can still make chyawanprash with whatever herbs are available with you.
The principle ingredient –'Amla' is a rich source of Vitamin C and is an immunity enhancer. In the list of Chyawanprash ingredients below, apart from amla and 17 other herbs, I have used Dashmool. Dashmool is a combination of 10 ayurvedic herbs (Bel, Agnimantha, Chhoti kateri, Sona patha, Patla, Gambhari, Brihati, Shalaparni, Prushniparni, Gokhru). It is anti-inflammatory in nature therefore reduces inflammation, fever and joint pains. Please follow the step by step procedure below to make Chyawanprash at home.
This recipe will make approximately 500 grams of home-made Chyawanprash.
Homemade Chyawanprash recipe
Chyawanprash ingredients
1. Kwath Dravya
Amla (0.5 kg),
Chotti harad, Giloy, Vasaka, Jivanti, Kachur, Nagarmotha, Shatavari, Ashwagandha, Vidarikand, Bhrami, lal chandan, Karkatshingi, Pushkarmool, Punarnava, Munakka, Mullethi, Dashmool (5 grams each)
2. Ghee and sesame seed oil (Til ka tel): 30 grams each.
3. Prakshep:
Vanshlochan or Bambusa arundinacea (15 grams)
Nagkesar or Mesua ferra (1 gram)
Elaichi or cardamom or Elettaria cardamomum (1 gram)
Tamalpatra or tejpatra or patra or Cinnamomum tamal (1 gram)
Dalchini or Cinnamomum zeylanicum (1 gram)
4. Sugar: 450 grams
How to make Chyawanprash at home (Chyawanprash recipe)
Wash the Amla and place them inside a big vessel containing 1.2 litres of water. Put it to boil on medium flame. The traditional method is to place the Amla inside a clean cloth and tie in a potlee. However I have placed them directly in water.
2. Now put all the kwath dravya herbs in the same vessel containing amlas.
3. Boil the amla and herbs together till the amla turns soft. This process may take 45 minutes-1 hour.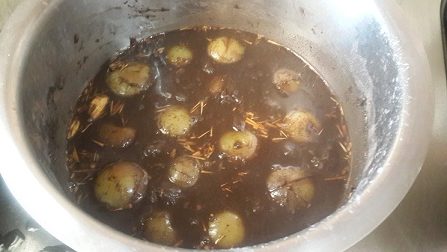 4. The reason why Amla and kwath dravya herbs are boiled together is that Amla absorbs all the medicinal properties of the herbs and turns dark at the end of boiling process. (Although boiling amla in a pressure cooker saves time but is not an authentic process).
5. Turn the gas off once the amla are completely soft.
6. Now take out each amla and de-seed them. Discard the seeds.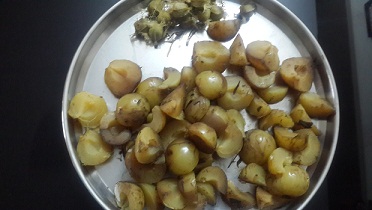 7. Put the amla pieces in a grinder and make a smooth paste.
8. Place the amla pulp on sieve and mash it. Keep pressing the pulp with the help of a big spoon. All the fibrous material remains on the top and we obtain a smooth 'amla pithi'. Discard the fibrous material left on the top of sieve.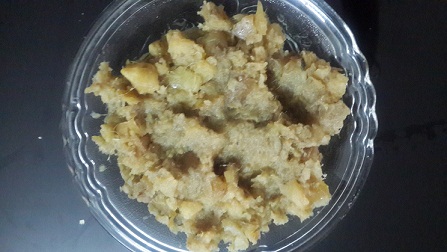 9. Filter/Sieve the kwath dravya/herb mixture and discard the marc.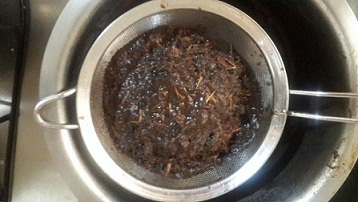 10. Now put an iron pan on flame. Put 30 grams of ghee in it.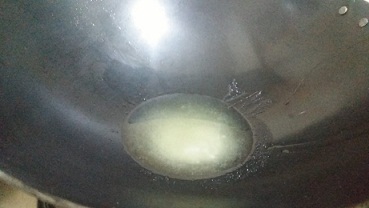 11. Once the ghee is melted, add 30 grams of sesame seed oil (Til ka tel) in it.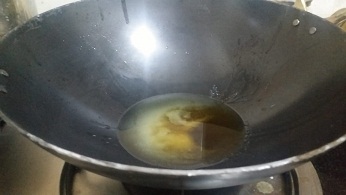 12. Now add the amla ki pithi in it. Cook it well and keep mixing it.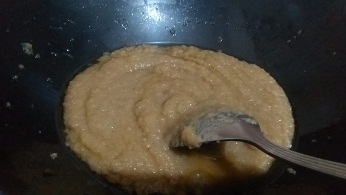 13. Add the kwath dravya/herb mixture in it. Keep mixing it. Add sugar in it. Cook it very well till it gets a firm and thick consistency.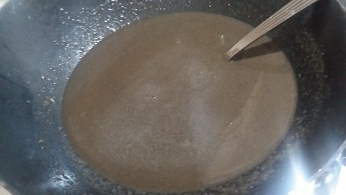 14. Once the resultant mixture is thick enough, turn off the flame and keep it aside for few hours.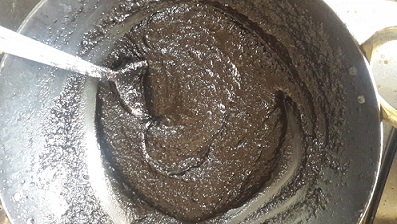 15. Now it's time to add the prakshep ingredients. Remove the cover of elaichi (cardamom). In a Grinder add elaichi seeds, Vanshlochan, Pippali, Nagkesar, Tejpatra and Dalchini. Make a smooth powder.
16. Now add this prakshep powder in the above prepared amla mixture.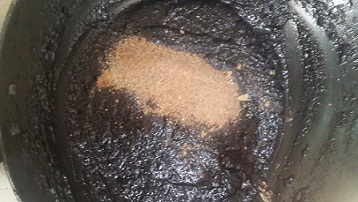 17. Your homemade chyawanprash is ready.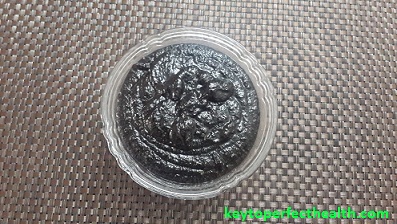 References: